Sun and moon tattoos have been the "go-to" design as couple / best friend tattoos in the recent years, especially during the Pinterest and Tumblr boom. This matching tattoo combination usually has one person bearing the sun, the other with the moon design. Read more for matching tattoo ideas, all tattoos showcased in this article are available in our Prinker Content Platform!

Matching sun and moon tattoos often have a deep meaning behind them, symbolizing the closeness between two people. The sun and moon rule the world together, balance and support each other, the ultimate partners-in-crime. This is perfect if you are looking for small tattoos for your fingers or ankles!

Small sun and moon tattoos are popular amongst couples, best friends and siblings. Prinker's growing library of tattoos allows you to mix and match designs according to your personal preferences. Here are some examples we picked out:
Design by Prinker Korea
Sun and moon tattoo designs are often placed on the thigh, hand or foot depending on its size. They can be very meaningful, and look great for the perfect photo-op for you and your loved ones. A simple sun and moon wrist tattoo on two entwined hands will make for a great picture and anniversary accessory! If you are looking for a small, simple tattoo, take a look at these sun and moon minimalist designs from our library:
Design by M_Ink

Looking for more elaborate designs? Tribal-style and Aztec sun and moon tattoo designs could be your thing. These emit courage and passion, suitable for anyone looking for anyone with a more masculine aesthetic, often for guys.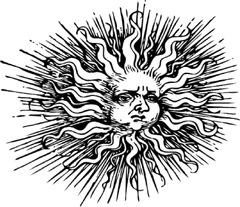 Design by M_Ink
In addition, there are unique sun and moon tattoos where both the sun and moon were merged into one design. These symbolise the merging of yin and yang; the union of two souls into one- they make for very unique matching tattoos!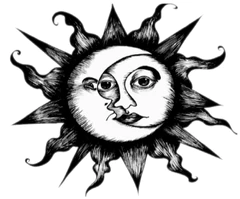 Design by Prinker Az

Want a pop of color? Sun and moon drawings with color are suited for fun vibes, especially a fun festival or party! Tattoo designs can be printed in vivid colors with our Prinker temporary tattoo printer so there's no limit to your creativity!
Design by Prinker Korea

Whether you're marking an anniversary, a friendship celebration or getting a sun and moon temporary tattoo just-because, Prinker has got you covered with our growing range of designs.

Matching tattoos can be placed on the arms or whichever body parts like these:
Image from Unsplash
Prinker lets you choose from over 8,000 designs to help you bring your ideas to life. Design your very own sun or moon temporary tattoo, or browse our rich library full of pre-made artworks. Create an entire galaxy anywhere on your body by adding stars from our library!

Browse for more in our Prinker Content Platform here

If you already own a Prinker device, get the Prinker App to start prinking these designs on yourself or your friends:

Download Prinker app for iOS

Download Prinker app for Android

Enjoy fuss-free, easy application - our non-permanent tattoos are waterproof, won't peel off, and can last up to 3 days. Changed your mind or want something new? Just wash your temporary tattoo off with water and soap, it's that easy!

If you've been dreaming of a new tattoo, but aren't ready to make the commitment, Prinker is the solution. A typical small tattoo can cost more than $100 from a professional tattoo artist, while one Prinker Temporary Tattoo Printing Device can print up to a thousand tattoos!

Come browse our Prinker Content Platform today for more sun and moon tattoo ideas! Get Prink'd!