The symbol of everlasting love and romance, the rose is recognizable across Western media as a declaration of love, usually given as a gift to one's romantic partner. Countless old-school romantic movies portray the main character gifting roses to their love interest as a confession of love, making fans gush over such a passionate gesture.

These days, roses have also become a popular theme for tattoos, with each person giving it their own meaning. Popular interpretations of this design are feminine strength, self-love or passion at the highest level. Read further to gain some insight into popular rose tattoo styles, maybe you'll even be inspired to get one as a temporary or permanent tattoo!
Design by Chiara
Artists often incorporate rose symbols into their creations to add a softer touch to the design. All the images shown in in this article are currently available for download on the Prinker Content Platform and if you own a Prinker's Temporary Tattoo Printing Device, you can print them immediately!

Line art roses exude an exquisite sense of beauty, especially when they are paired with elements such as skulls and other animals. These temporary tattoos are suitable for the arm, shoulder and thigh - the best part is, they are neutral enough to be worn by both men and women!
Design by Prinker Korea

If you're looking for something with more dimension, you could also opt for shaded or black rose tattoo designs from our Content Platform, like this detailed rose perfect for the hand, forearm, thigh or shoulder: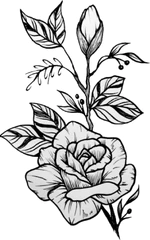 Design by Prinker Korea

If you're looking forward to showing off a fierce temporary tattoo for an event, this is it! A rose tattoo design pairs perfectly with grunge and gothic aesthetics, you're guaranteed to receive many compliments at a party.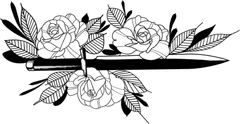 Design by Prinker Korea

Upon deeper study, different-colored rose tattoos actually represent slightly different types of love. Here are some popular meanings of each rose:

Yellow rose- Joy

White rose - Purity

Red rose - Romance, Passionate Love

Pink rose - Healing, First Love, Innocence

Black rose - Memorial, Farewell

However, if you're only looking for a traditional rose tattoo, red roses are the way to go. These small rose tattoos would look good on the wrist or ankle!
Design by Prinker Korea

With a Prinker's Temporary Tattoo Printing Device, the sky's the limit. Our ink is FDA VCRP and EU CPNP-registered, which means it is cosmetic-grade, non-toxic ink. Fake rose tattoos are perfect if you only want to accessorize an outfit for the weekend, or if you're going for a very specific aesthetic at a themed party. Being child-safe, you can even get one to entertain the kids!
Design by M_Ink

Temporary tattoos printed by our Temporary Tattoo Printing Device are water-resistant and last up to 3 days, perfect for pool parties or even just a fun time at home. We understand that a permanent rose tattoo could cost hundreds or even thousands of dollars when done by a professional, so this is a pain-free, commitment-free way of experimenting with different styles!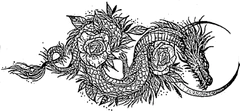 Design by katy
Browse for more in our Prinker Content Platform here

If you already own a Prinker device, get the Prinker App to start prinking these designs on yourself or your friends:

Download Prinker app for iOS

Download Prinker app for Android